Skilled Nursing and Home Health Aide Services for Arlington VA, Baltimore, Lanham MD, Washington DC, Kensington MD, Annandale VA and Surrounding Areas Residents
Skilled Nursing – Home Care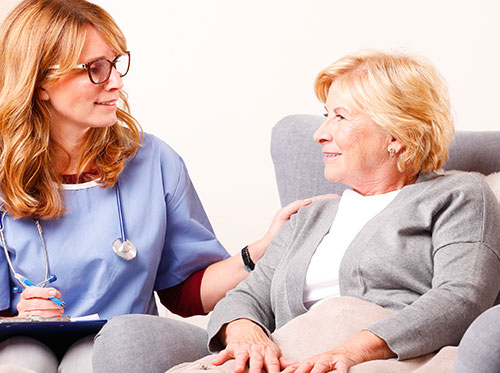 Whether recovering for illness or injury, there are times when you may require the advanced medical resources and skilled nursing found in a hospital but while you rehabilitate at home. Skilled nursing helps prevent hospital readmission, improves recovery time, and helps you get back to doing the things you love as quickly as your treatment allows. At Professional Healthcare Resources, we provide skilled nursing services at your home throughout Alexandria, VA; Annandale, VA; Kensington, MD; Baltimore, MD; Lanham, MD; Washington, DC and the surrounding communities. When you work with us, you won't be treated like just another patient. In fact, our team of healthcare professionals are focused on you…helping you better manage your health and enjoy the best care outcomes.
Home Health Aide
Our skilled Licensed Practical Nurses (LPNs) and skilled Registered Nurses (RNs) have the experience and resources to provide a number of services, including:
Infusion Therapy & Injections
Lab Draws
Central Line & Port Maintenance
Wound Care
Tube Feeding
Ostomy Care
Treatment for Skin Conditions
Disease Management
Whether short or long-term care is needed, our skilled nurses work with the patient, patient's physician, and family throughout the care process, customizing a plan of care that reflects the individual's needs and preferences. We work with patients from the comfort of their home as a health aide, skilled in nursing and more. The plan of care is designed not only to improve the patient's health, but also to enhance their quality of life.
Skilled Nursing
Some or all of your skilled nursing home health expenses may be covered by Medicare or private insurance.
If you have Medicare, you can get full coverage with Part A if you qualify for one of the following:
Services are medically necessary and ordered by a physician
Leaving home requires assistance and a considerable effort
The need for skilled nursing services is short-term or intermittent
If you have questions about our skilled nursing services, please don't hesitate to reach out to us. We are here to assist you when and where you need us!
For more information or to refer a patient for services, contact our Central Intake Department by calling 866-243-1234, by fax at 866-845-0762