Home Health Care and Skilled Nursing for Annandale VA, Washington DC, Arlington VA, Baltimore, Lanham MD, Kensington MD and Surrounding Areas
Home Care and Home Health Aide
If you are recovering from an illness or injury, your physician may recommend home healthcare to help you return to an active lifestyle. At Professional Healthcare Resources, we provide skilled nursing, physical therapy, occupational therapy, and medical social worker services, providing you with high-quality care in the comfort and privacy of your own home. Continuity of care allows patients to maintain residence in their most familiar environment. Since 'home' means different things to different people, the care we provide is available whether you are in your personal residence, assisted living facility, or other supportive care facility. Because we offer hospice care that supports people right up until their last days, it can be possible to maintain the home environment and familiar care staff that improves quality of life.
We understand that each situation is unique, and our caring and nurturing staff works with the patient, family and physician to establish a plan of care that fits each individual's needs and goals. In addition, our staff members provide regular reports to family members and/or healthcare providers, adjusting the plan of care as needed. We realize that home healthcare is a difficult decision and the unexpected can happen at any time. For your convenience and peace of mind, we can admit patients quickly, even on weekends and holidays. Medicare Certified Home Health is 100% covered by Medicare if homebound status is confirmed. Call to ask about specific insurances of managed care plans, including Medicare replacement plans.
Home nursing helps prevent hospital readmission, improves recovery time, and helps you get back to doing the things you love as quickly as your treatment allows. Our skilled Licensed Practical Nurses (LPNs) and Registered Nurses (RNs) have the experience and resources to provide a number of services to support your care at home.
Learn More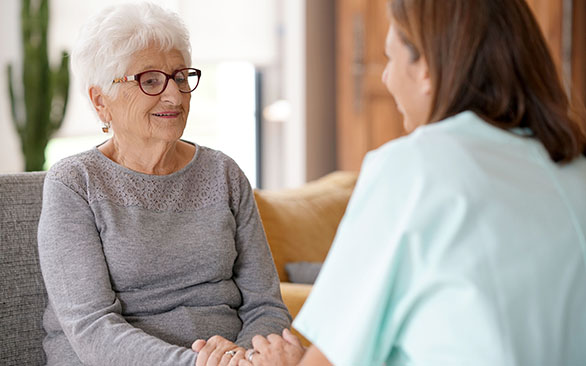 Our physical, occupational, and speech therapy services are designed to help patients maximize independent functioning. Whether the need is for physical, occupational or speech therapy, patients can remain safe in their familiar surroundings and enjoy programs tailored to their individual needs and goals.
Learn More
Whether it's meal preparation, assistance with bathing & personal care, light housekeeping, transportation or another need, we have the ability to customize our services to provide whatever level of support you require.
Learn More
FAQ's About Skilled Healthcare Services
Q: How can I pay for home healthcare services?
A: Professional Healthcare Resources is a fully licensed Medicare, Medicaid, Tricare and Kaiser Permanente provider. Services also can be covered by some health insurance plans or private pay. If you are not sure what your insurance covers, please call your insurance company directly. Also contact us if you have more questions at 866.243.1234.
Q: How do I know I am choosing the right homecare provider?
A: You should find out as much as you can about a homecare provider before you refer yourself or a loved one. Here are some questions you should ask:
How long has the agency been in business?
Is the agency licensed by the state and certified by Medicare?
What can the agency do in case of an emergency?
Additional information can be provided by the National Association for Home Care & Hospice, which provides a guide titled "How to Choose a Home Care Provider." To access the guide, go to: www.nahc.org or call 202.547.7424. This guide can also be requested from Professional Healthcare free of charge by calling 866.243.1234.
Q: How can I get in touch with Professional Healthcare?
A: We provide services 24 hours a day, seven days a week. You can reach us by calling 866.243.1234.
For more information or to refer a patient for services, contact our Central Intake Department by calling 866-243-1234, by Fax at 866-845-0762